BOE 2014 anksčiau buvo žinomas kaip "Battle of EST". Tai yra vienas svarbiausių Hip-Hop kultūros renginių, kurio metu vyksta Hip-Hop, Popping, Krump ir Breiko kovos. Kasmet nuo pat renginio atsiradimo jo metu pasirodo krūva legendinių šokėjų, o renginys tapo vienu iš didžiausių gatvės šokių festivalių visoje Šiaurės Europoje.
Estijoje vyksiančiame BOE varžysis šokėjai, pastaraisiais metais nugalėję tokiuose turnyruose kaip Freestyle Session (JAV), UK B-Boy čempionatas, R- 16 (BY), Battle Of The Year (FR).
Iš viso BOE'14 matysite 12 geriausių break dance pasaulio komandų ir daugybę šokėjų iš daugiau nei 20 šalių.
Renginys vyks jau 14 kartą.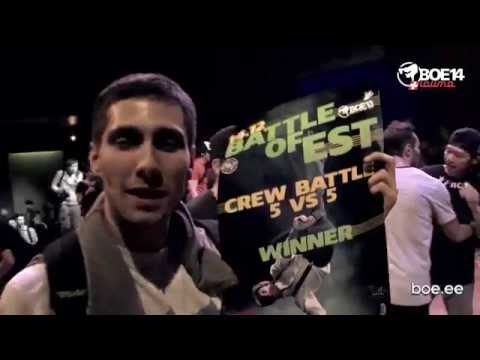 Renginys https://www.facebook.com/events/565045080262753/
Kelione https://www.facebook.com/events/571773219590161/
Renginio metu vyks:
"5vs5 break crew battle"
"Junior crew battle"
"Solo Bboy"
"2vs2 Hip hop"
"Solo Krump"
Registracija dalyviams iki gruodžio 1 d. el paštu info@boe.ee
Išankstiniai bilietai po 12 Eu, Renginio diena 16 Eu
BILIETAI ŠIO AUTOBUSO GRUPEI PIGIAU!
DALYVIO MOKESTIS IR YRA BILIETAS.
Preliminariai autobusas iš Vilniaus išvyks nuo Forum Palace apatinės aikštelės gruodžio 13 d. 02:00 val., (naktį iš penktadienio į šeštadienį)
Iš Tartu išvažiuojam tą pačią dieną apie 22 val. (kelionės trukmė ~8val.)
Važiuosime komfortabiliu autobusu. Kaina į abi puses 100 Lt. (Užsiregistravus reikės pervesti pusę sumos negrąžinamo rezervacijos mokesčio į nurodytą sąskaitą arba grynais studijoje)
BŪTINA registruotis šiai kelionei el.paštu info@skillzstudio.lt iki gruodžio 1d. įrašant šiuos duomenis:
Tema (Subject): Kelionė į BOE'14
Tekstas: Vardas, Pavardė, amžius, telefono numeris, el.paštas, dalyvis ar žiūrovas (išsirinkti vieną).
Svarbu: registracija patvirtinama gavus atsakymą iš info@skillzstudio.lt